Launched in March 2018, and located in Malta, Coindeal is a global crypto platform that meets the needs of its users. Besides its normal functioning, the Coindeal Exchange also hosts a lavish Coindeal Referral Program. I say lavish because you can easily earn up to 40% of the fee transaction and if you become a VIP member then you get an additional 4% earnings once your invited users start inviting others.
This is a great option to earn extra passive income. The earnings basically, start with 20% of the trading fees of the people you referred and with time you can double these earnings. So, scroll down to sign up on Coindeal and to know more about the Coindeal Affiliate Program.
| | |
| --- | --- |
| Referral Code | D2DZ |
| Referral Link | Click Here |
| Referral Rate | up to 40% |
Coindeal Referral Code: D2DZ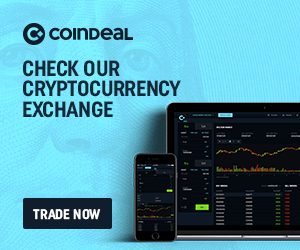 Note: Coindeal Affiliate and Referral program are the same thing on coindeal. There is only one invitation earning program, whatever you may call it.
Here are some more Referral programs by other major crypto exchanges.
Coindeal Referral Program Explanation
Similar to other referral/affiliate programs from crypto exchanges, coindeal also gives you an incentive for inviting your friends on their platform. The more people you invite successfully, the more you start earning. Remember, the affiliate and referral programs on coindeal are the same thing. This is not the case with other crypto exchanges. So read below for complete details on this free crypto earning scheme.
Registration Steps: New Users
Before you invite people to coindeal, you need to be a registered user in order to get your own Affiliate Link. So follow the below sign up steps to become a member:
Click on this

Coindeal Account Sign Up Link

. We will really appreciate it if you use this above Referral Link to sign up on the exchange.
Fill the form.
The email you use should be a valid and important one as this information cannot be changed later.
Enter the desired secure password.
Now click on the Create Account button.
A verification link will be sent on the registered email. Click on it to verify.
After that, a form will appear where you have to give some basic details.
The Mobile Number you put should be without a zero in the beginning.
An OTP will be sent on your number. Verify the OTP.
Now, a mandatory 2FA has to be set up using Authy or Google Authenticator.
Coindeal referral code will be applied automatically if not then put D2DZ.
Your Level 1 registration is complete and now you can get your own Referral link using which you can invite your friends to join the Coindeal App or web exchange.
For the 2nd Level of Coindeal Account Registration you have to upload proof documents which will be checked by the Coindeal Support Team. This process will take time usually 2-3 working days.
Finally, for the last level of sign up, a proof of address verification is done.


Note: To reap the full benefits of affiliate program you need to complete all the above mentioned registration steps.
Getting your Coindeal Affiliate Link?
Now, that you have made an account on Coindeal, it's time to locate your affiliate link and propagate as much as you can.
Enter your details into the Coindeal Login Page.
Click on the "Affiliate Program" tab on the top right corner of the home page.
You can copy your unique Affiliate Link link from this page.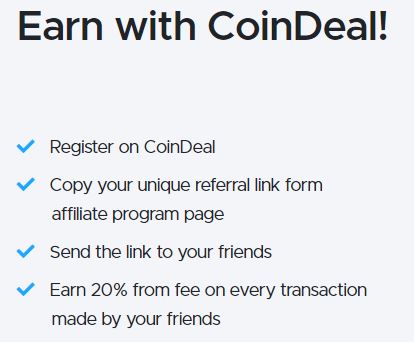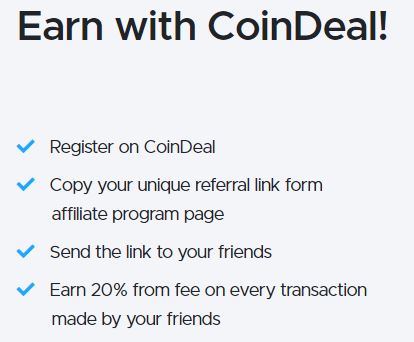 Benefits of the Coindeal Referral Program?
Firstly, as a beginner, you can earn 20% from trading fee on every transaction that is made by your referred friends.
Secondly, with time, you can bump this up to 40%.
There are no limits on the number of referrals you can join. The more you do, the more you earn.
And the affiliate earnings you make can be used as you want. You can use them for trading, Coindeal fees, withdrawals etc. without any restrictions.
Lastly, if you successfully make 100 referrals, then you can reap the benefits VIP Club which has two additional benefits as mentioned below.
Coindeal VIP Referral Club
If you successfully invite 100 referrals, then you become a member of the Coindeal Affiliate VIP Club. Joining the VIP Club reaps of two additional benefits over the affiliate/referral program as mentioned below:
The best thing about becoming a member of the VIP Club is that – in addition to the 20% of trading fee via coindeal referral program, you also get the second level of 4% earnings once your referred friends start inviting others successfully.
Once you successfully refer 100 people by making them join the Coindeal Exchange, your own trading fees gets reduced to 0.2% (maker) and 0.3% (taker).
Terms & Conditions
The affiliate/referral program is governed by certain rules which are mentioned below:
You can access your affiliate link after the 1st Level of sign up verification but if in case you earn from the program and want to withdraw funds i.e. either crypto or fiat, then you have to complete the Starter level and intermediate level verification also respectively.
By trading fee, Coindeal refers to any kind of transaction of selling/buying/trading made by a user who registered using your affiliate link. So, you will get 20% of the fees that is charged for the concerned transaction.
Payouts are done once a month, on every first day of the month. The payout done will be the commissions earned from the previous month.
All the earning get accumulated in your respective coin wallets which means your commission will be paid out in the same cryptocurrency that the fee for the transaction was charged in.
The Coindeal Referral link cannot lay dormant for more than three months. If no new registrations are made in three months after the last successful affiliate registration was made, then your right to commissions from all previous users will also expire. So, it's really necessary for your link to be active enough to enjoy earnings for a longer time.
Also, check MCO, Crypto.com referral program and both you are your referral will get $50
Coindeal Token : Earning via CDL Staking
You can earn 11% every year using CDL Token staking and earn a passive income with coindeal token.
What you have to do?
The minimum amount to stake is 1000 CDL Tokens to get the yearly 11% rewards.
You can stake any of the three cryptos – CDL, BTC or USDT.
After the completion of the first 72 Hrs, you will get a free bonus of 30 CDL as a way to encourage you for staking.


Benefits and Terms
Apart from the above mentioned free bonus rewards, your fess will also be lowered to 0.05%.
You can also become a premium member and be a part of the OTC service by staking 20,000 Coindeal Tokens in your CDL Wallet.
Premium members are by default a part of the OTC offer.
This service is free by default and no fee is charged.
OTC and premium service make you eligible to get flat rates, no matter the size of your purchase. This means there will be no price fluctuations for you.
Coindeal Exchange Review
Coindeal is one of the biggest global crypto currency exchanges with over 320K users, 50 Markets and 7 fiat currencies. Add to this, a high level of security, quick deposits with a credit card and support available 24/7 – a perfect recipe for a great crypto exchange. As usual, you can trade cryptos, make deposits and withdraw funds efficiently on this exchange.
Coindeal Features
Below listed are some trademark features that make trading on Coindeal a transparent, fast and satisfying experience:
Implemented IP security
Fast Verification
Multiple Crypto-Fiat Markets
An awesome Referral Program
Absolute Security
Quick Support Team
Mandatory 2FA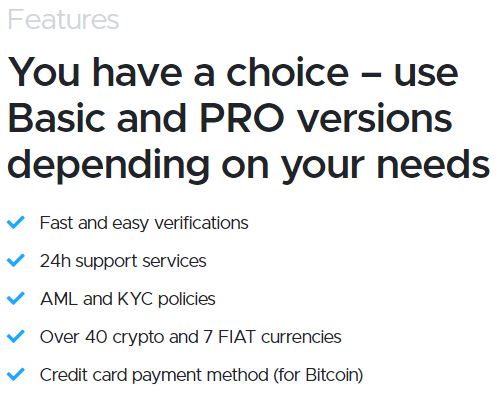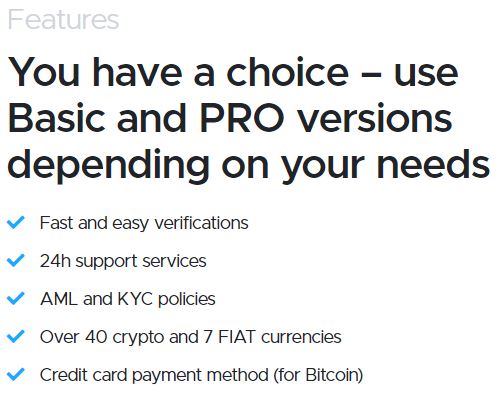 Conclusion
So, don't miss the chance. Use the above given Coindeal Referral Code to join and become an affiliate partner. Invite your best trading friends and earn as much as you want.
Don't forget to read this post thoroughly so that you don't miss any detail or condition. Else, you will miss a very good deal. Lastly, if you have any queries or suggestions, then do comment down below. We will try our best to help you!