Utilize the Brave Browser Referral link to earn up to $7.5 for successful Brave browser download. Make use of the Brave Download offer provided by the revolutionary Brave Browser and start earning ASAP.
If you own website or a youtube channel Brave browser allows you to earn unlimited earnings in the form of Brave Rewards.
BAT users are provided with an excellent opportunity to increase their BAT tokens with the help of Brave Browser.
Download Brave Browser by our link and start earning from the Enrollment offer of the Brave Browser. Create profit by watching Brave Ads
Brave Download offer: Free BAT [Rewards Section]
Brave Referral Rewards: Up to $7.5/download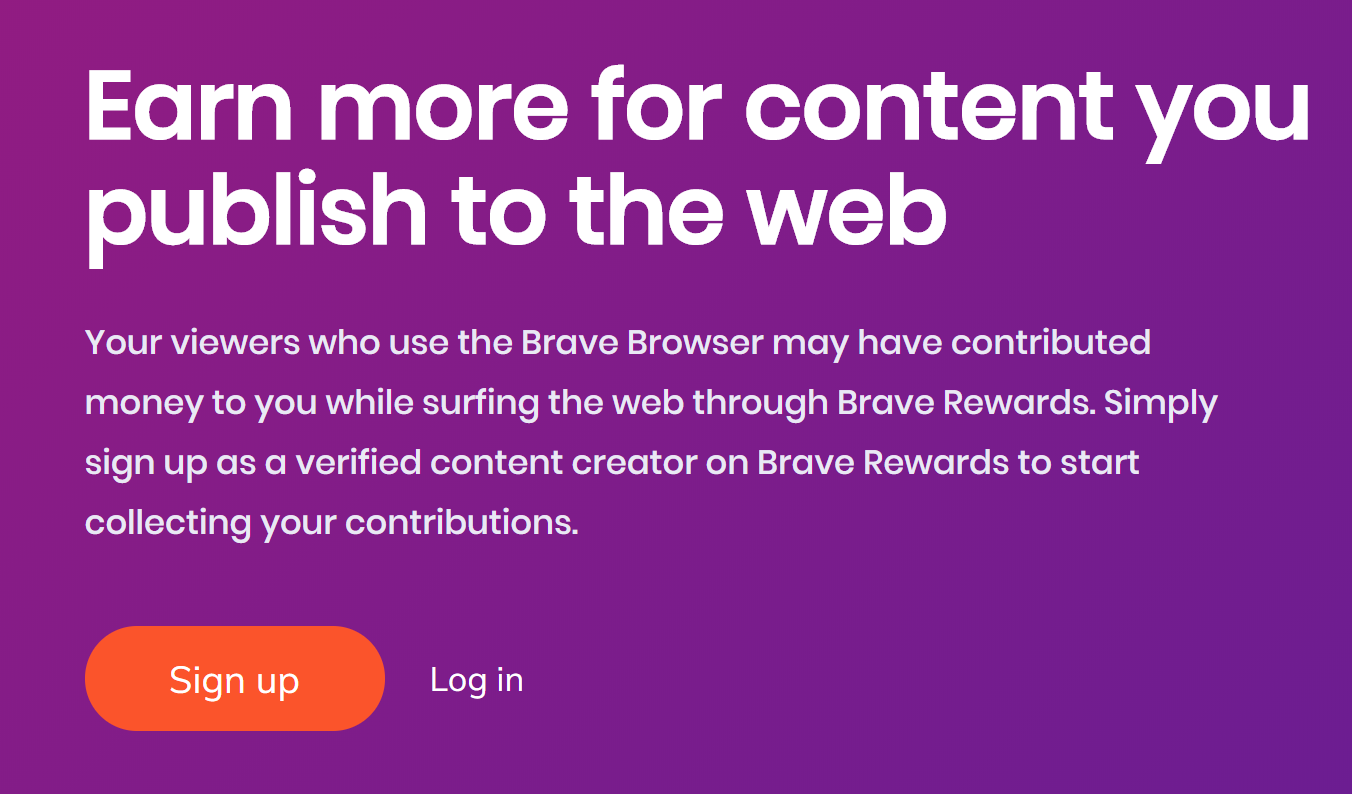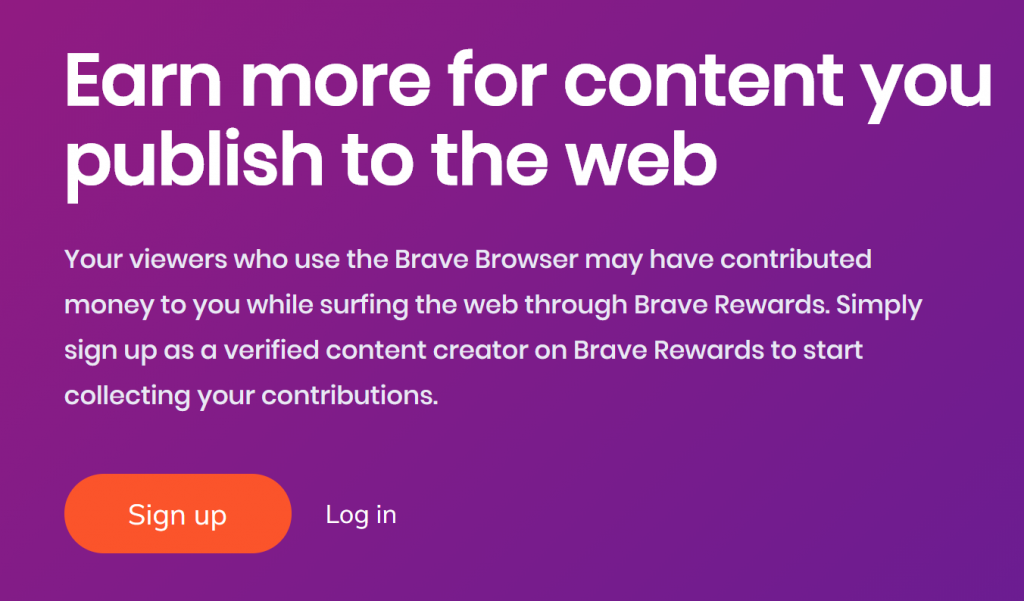 | | |
| --- | --- |
| Download Offer | Free BAT tokens |
| Referral Payout | $7.5/download |
| Download Link | Click here |
| Referral Code | jkc508 |
How to Signup for the Brave Referral program?
To start earning through Brave browser referral program do the following
1. Download Brave browser from the following Referral link
2. Sign up on Brave browser.
3. Verify any one property of yours which can be your Youtube channel, Website, Twitch channel, Twitter, Vimeo, GiftHub or Reddit.
4. After verification open your Publisher Account.
5. Visit the Dashboard page of your Account.
6. Click on a blue rectangular box saying Free tokens for referring your friends.
7. Click on "Learn more" and then click on "Activate Promo".
8. You will find your unique Brave Referral Code. Copy and share this Download offer with your friends to earn rewards.
Brave browser Affiliates program: Terms and conditions
There are certain points you need to keep in mind while dealing with Brave browser affiliates program.
Referral metrics
There are 3 types of referral metrics.
Download – It shows the no. of people who have downloaded the browser through your referral.
Install – Shows the no. of people who have actually installed the browser through your referral.
Confirmations – The no. of people who have actually used the browser for a minimum of 30 days
Your rewards will only depend upon the no. of confirmations you have hit. The more confirmation number the more you get rich.
How to Get Brave Referral Payouts?
Brave will pay you monthly based on your performance.
You will get your rewards in linked uphold account in BAT.
You can exchange these to BTC/Fiat or anything you want at any crypto trading platform. e.g BAT is listed on Binance and you can use our Binance Referral Code to get a discount on trading.
Brave Browser Tier Based Referral Payouts-:
Due to the region-centric focus of Brave as where it can deliver most of its ads, Brave has decided to go with a group-based incentive. It has categorised countries into various 5 groups and each group carries its specific incentive.
The reward per referral in these groups is as follows.
Group 1- 7.50 USD (in BAT)
Group 2 – 6.50 USD (in BAT)
Group 3 – 5.00 USD (in BAT)
Group 4 – 2.00 USD (in BAT)
Group 5 – 1.00 USD (in BAT)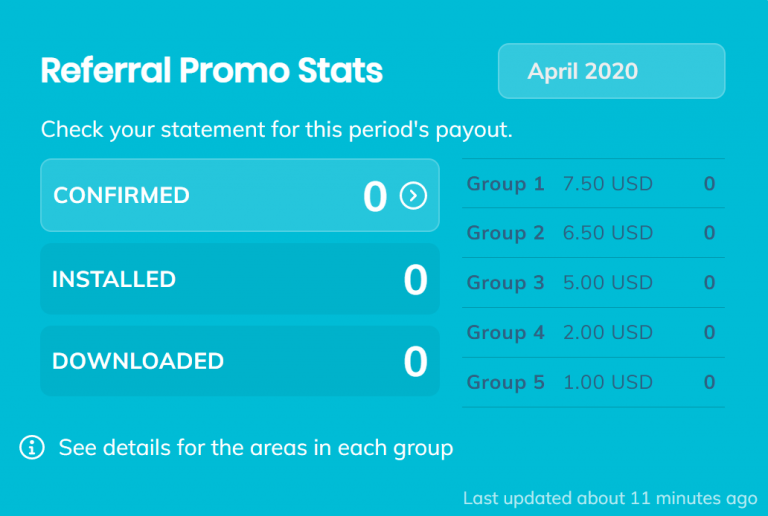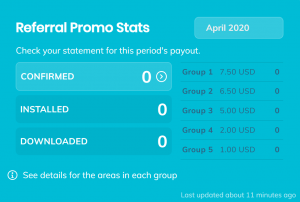 Let us take a look into the countries that each group represents
Group 2: Canada, France, Germany, Ireland, New Zealand, United Kingdom
Group 3: Singapore, Finland, Korea, Israel, Austria, Belgium, Hong Kong, Denmark, Netherlands
Group 4: Albania, Argentina, Brazil, Guatemala, Chile, Colombia, Bolivia, Bulgaria
Group 5: Afghanistan, Bangladesh, China, Iceland, India, South Africa, Sri Lanka, Thailand, Zimbabwe
Recent changes to Brave Referral Program -:
In earlier referral program they gave flat $5/download. From 1 October 2019 they shifted to tier-based referral payouts as discussed above.
How to use Brave Ads Program?
Brave ads is one hell of a revolutionary concept where you earn BAT tokens for watching Brave ads on your Brave browser.
You decide the ads you want to watch, at what time you want to watch, for what time duration you want to watch and earn profit by watching them too.
All you have to do is
1. Download Brave browser using our referral link
2. Sign up on the browser using your Email id.
3. Click on the Brave logo an then go to Reward settings.
4. You will see the revenue earned by you by watching Brave Ads.
5. You can either convert BAT Tokens to the currency of your choice or gift them to the content creators as a tip and show your appreciation towards their work.
You can earn $5 worth of BAT per month just by watching Brave Ads.
What is Brave Browser?
Brave Browser is one of the safest open source web browser which has revolutionized the browser industry by bringing the "Get paid while watching Ads".
Brave Browser helps protect your Privacy by not leaking out your browser history to advertisers so that you are kept undisturbed by the never ending disturbing ads.
It helps blocking Data consuming ads thus making browsing major sites faster than anyother browser.
The most important concept of Brave browser is the utilization of BAT tokens. You can either receive them from your fans, subscribers etc as an appreciation of the content you create. Or you can gift other creators BAT tokens to support their content.
Brave Browser also helps you to earn 70% of the ad revenue generated by watching ads.
Conclusion -:
Brave browser has certainly cast a doomsday for popular browsers such as Safari, Chrome, etc. Its revolutionary concepts and programs would certainly wreak havoc on other browsers. If you want to be part of the Brave browser family and earn and also support your favorite content creators do download it through our Brave Referral Code