Binance Futures has introduced another daily ROI and overall USDT team profit trading tournaments, where the best cryptocurrency futures traders get to win up to 6400 BNB every day combined. If you have not signed up on Binance Futures yet then Click Here to complete your registration. More info about Binance Futures Referral program will be posted very soon, stay tuned.
Binance Future Team Profit Tournament and Daily ROI Competitions will last 15 days, starting from 10 April 2020 at 0:00:00 AM (UTC) and ending on 25 April 2020 at 0:00:00 AM (UTC).
This is a skill-based competition in which traders are ranked by their daily USDT ROI and overall USDT Team Profit. Join a team of known and skillful trader you follow.
How to Join Binance Futures Referral Team -:
1.  Complete your registration on Binance Futures.
2. Go to the Team Tournament page.
3. Search for the top teams.
4. Join them to share win prize.
Important Dates
Team leaders can signup starting 26th March 0:00:00 AM (UTC) till 10 April 2020, 0:00:00 AM (UTC)
Team members can signup on any dates from 26th March to the end of the competition.
Competition will start from 10-04-2020, 0:00:00 (UTC) to 25-04-2020, 0:00:00 (UTC)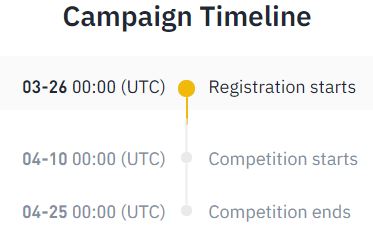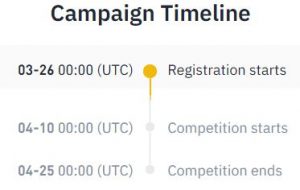 More Infomation About Tournament
All teams that trade on Binance Futures will be ranked based on total team profit in USDT.
Team profit is counted by summing up the profit of the top 10 traders in a team.
To be eligible for joining a team, all users must have a minimum of $10 USDT in their Binance Futures account.
Binance Futures Tournament Prize Structure
The top team will receive 30% of the total reward in BNB.

Runner up team will receive

20%

 

of 

the total reward in BNB.

2nd Runner up team will receive 10% total reward in BNB.

4th 

– 

10th 

Place:  will receive a 40%

equally 

divided

pool reward in BNB.
How r

ewards are

allocated

within 

each 

team?
Each team leader will receive 30% of the overall reward of their team.
The top 10 individual USDT profit contributors in each team will evenly divide 20% of the remaining corresponding ranking reward.
The remaining 50% of the team's total reward will be shared equally among the remaining qualified team members.
Note:  Only team members with at least 50,000 USDT trading volume during competition period are eligible to receive rewards.
Prize Pool Explanation
The total prize pool for the Team USDT Profit Tournament will be determined based on the total number of team members across all teams. The more participants there are, the higher the total bonus pool will be and is capped at a maximum of 1,000,000 USD in BNB tokens.
Number of Participants      Prize Pool Total
5000                                        50000
10000                                      100000
15000                                       150000
30000                                      200000
60000                                       500000
85000                                       750000
100000                                     1000000
Know More about Daily ROI Competitions
You can earn extra rewards with Daily ROI Competitions. It will be individual competition and to be eligible you need to have at least $10 before the start of the day.
Additionally, daily ROI competitions will also be held during the tournament starting from April 10th 0:00:00 AM (UTC)  that will each run for 24 hours, for a total of 15 sessions. In the daily competition, Binance Futures Traders will be ranked based on their daily total profit (ROI) in USDT from trading on Binance Futures.
The Competition Dates and minimum balance remain the same as that of the Team Profit Tournament.
Daily ROI Competition Prize Structure
The top trader will get $2000 in BNB.
Runner up will get $1000 in BNB.
2nd Runner up will get $500 in BNB.
4th – 10th Place: will get equally split a pool of $1500 in BNB
Rules for Team Leader and Team Members
Team Leaders
Click here for the Team Leader Sign-Up Page

. No further changes are allowed once the team is created.
Every team needs to have a minimum of 10 Team Members. This is an absolute requirement that should be fulfilled within 7 days of signing up else the team would be disbanded and members can join the other teams as they wish for. Also, there is no upper limit on the number of team members each team can have.
As mentioned above, Team leaders can continue recruiting more members even after the end of the sign-up period i.e during the competition also in search of 10 top traders in the team.
At the end of the competition, the team leader that manages to make the largest team will receive a Bonus Popularity Award of 5000 USD in BNB.
Team leaders can create their community groups and provide valuable market analysis and guidance on how to trade on Binance Futures at their own risk. Binance will have nothing to do with this.
Team Members
Choose to join your favorite team from this Sign-Up Page. Choose wisely as once you join the team, no changes are allowed except in case the team has been disbanded due to non-fulfillment of a minimum of 10 members.
As mentioned above, Participants have the freedom to join any team at any point during the competition period as the dates for them extends from 26th March to 25th April.
How to Participate?
To join the trading competition, simply trade at Binance futures during the tournament period.
You'll first need to have a simple trading account with Binance to start trading futures at Binance. You can register for a free Binance Trading Account Here. Get a commission kickback rate of 10% using this link.
After you have registered for your Binance account, you can then sign up for their futures trading program. When signing up, be sure to use our Binance Futures Referral Code "10crypto" for an extra 10% discount off your futures trading fees.
For further detailed Terms and Conditions Click Here.
Risk Warning: Futures trading is a highly volatile practice, with potential for both large gains and large losses. Please be aware that there is a risk that all margin balances in your futures wallet may be liquidated in the event of a significant price movement.